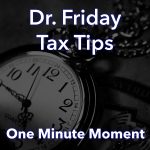 Dr. Friday 0:00
Good day. I'm Dr. Friday, president of Dr. Friday Tax and Financial Firm. To get more info go to www.drfriday.com. This is a one minute moment.
Are you self-employed? Are you an individual that has to do 1099s or even W-2s and miss cases for your employees? First thing when we're talking 1099s, are you treating that person the correct way based on the law? I know you're sitting there saying, "Well, I don't want to have to pay more taxes." But the penalties for misclassifying an employee is pretty steep. And the Federal Department of Labor is out there going through businesses, auditing them, and trying to make sure that people are classifying their employees correctly. If you don't know if you are supposed to have them as employees, or if they're supposed to be at 1099s, you need to call me.
Announcer 0:52
You can catch the Doctor Friday Call-in Show live every Saturday afternoon from 2pm to 3pm right here on 99.7 WTN.