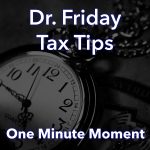 Dr. Friday 0:00
Good day. I'm Dr. Friday, president of Dr. Friday Tax and Financial Firm. To get more info, go to www.drfriday.com. This is a one minute moment.
Remember in 2018 we had a huge tax change and one of it was reimbursement for employees. Many of my truck drivers lost several thousands of dollars in tax credits because they were no longer able to take their per diem because they are W-2 employees and the 2106 fell off the tax code. That is still in play in the 2019 tax year. Make sure you're making the proper adjustments to your W-2 or W-4 information. So on the W-2, you have all the right deductions.
If you need help, you don't understand, and you just seem like you're paying a lot of taxes, you need to call me (615) 367 0819.
Announcer 0:52
You can catch the Doctor Friday Call-in Show live every Saturday afternoon from 2 pm to 3 pm right here on 99.7 WTN.