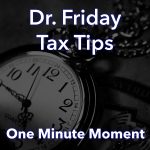 Dr. Friday 0:00
Good day. I'm Dr. Friday, president of Dr. Friday Tax and Financial Firm. To get more info, go to www.drfriday.com. This is a one minute moment.
Have you been getting some phone calls from maybe anti-taxation groups, basically arguing, saying we should not have to pay taxes? It's against the 5th Amendment, the Constitution, the 16th Amendment? And the answer is it's not. The truth is the courts changed that back on February 3, 1913 people. So if you're a person that believes that taxation is not fair that you should not have to pay taxes because it's not a part of the amendment, you might want to look at the tax courts and see lately how many people they put in federal prison for not filing taxes. That's not the answer.
Let's comply and get you back on track. Call me (615) 367 0819.
Announcer 0:52
You can catch the Dr. Friday Call-in Show live, every Saturday afternoon from 2 pm to 3 pm right here on 99.7 WTN.