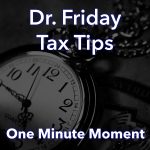 Dr. Friday 0:00
Good day. I'm Dr. Friday, president of Dr. Friday Tax and Financial Firm. To get more info, go to www.drfriday.com. This is a one minute moment
What is a tax deduction for medical expenses? The IRS allows you to deduct qualified medical expenses that exceed 7.5% of your income for 2017 and 2018. But coming 2019, when we get ready to do this year guys, it is 10% of your adjusted gross income. So it's very important if you're getting ready to do your taxes, you may need to recalculate. Sometimes with medical, it's a lot like charitable and property taxes in my opinion, you need to plan it. So the big years you also have other deductions that may be itemized.
Call me if you've got questions (615) 367 0819 or check me out on the web at drfriday.com.
Announcer 0:52
You can catch the Doctor Friday Call-in Show live every Saturday afternoon from 2pm to 3pm right here on 99.7 WTN.