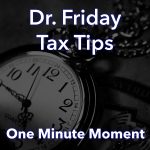 Dr. Friday 0:00
Good day. I'm Dr. Friday, president of Dr. Friday Tax and Financial Firm. To get more info, go to www.drfriday.com. This is a one minute moment.
Dr. Friday 0:12
Make sure that you are preparing for your taxes, it's time to start preparing. Hopefully, you've gotten your W-2s and 1099s. Now you're able to get in there and start preparing your taxes. If you need help, you can just go to drfriday.com and click on appointments. Remember that sometimes you may have extra expenses. If you're a real estate professional or you're self-employed or you're a truck driver. You guys have specific things that sometimes apply to your profession. Don't leave any expenses on the table. But on the other hand, you need to be tracking these throughout the year so that you know what tax deductions you have. So you're setting aside enough for quarterly estimates because those are required. If you need help, 615-367-0819.
Announcer 0:52
You can catch the Dr. Friday Call-In Show live every Saturday afternoon from 2 pm to 3 pm right here on 99.7 WTN.