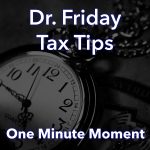 Dr. Friday
Good day. I'm Dr. Friday, president of Dr. Friday Tax and Financial Firm. To get more info go to www.drfriday.com. This is a one minute moment.
Can I claim a tax deduction for a newspaper subscription? This is an email I just received the other day and I thought it was kind of interesting because I so often think that people are digging and digging, trying to figure out what can be a tax deduction. Keep in mind that unless it's a business deduction, where you have continued education coming through it, or you're using it as a way of earning income, and employees, that's not going to work any longer. We do not have reimbursed employee expenses. So it has to be a small business owner, and then you'd have to prove that it was something that was used for business purposes, but it could be under those circumstances.
Call me if you've got questions. (615) 367-0819.
Announcer
You can catch the Doctor Friday Call-in Show live every Saturday afternoon from 2 pm to 3 pm right here on 99.7 WTN.