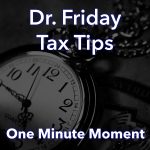 Dr. Friday
Good day. I'm Dr. Friday, president of Dr. Friday Tax and Financial Firm. To get more info go to www.drfriday.com This is a one minute moment.
Can I claim a tax deduction for college tuition? Absolutely. If you're an individual and you're the tax payer, you may be able to qualify for tuition and fee deduction up to $4,000. And that's on a Form 8917. There are also deductions if your children are in school. Make sure you get the Form 1098-T. Very important, without that you cannot claim the credit. It's important to understand where you can get tax credit and where you cannot because what you don't want to do is leave money on the table.
If you need help or understand or maybe you're just not sure if you're getting everything from the tax code as you're supposed to, call me (615) 367-0819.
Announcer
You can catch the Doctor Friday Call-in Show live every Saturday afternoon from 2pm to 3pm right here on 99.7 WTN.