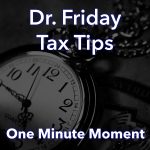 Dr. Friday
Good day. I'm Dr. Friday, president of Dr. Friday Tax and Financial Firm. To get more info go to www.drfriday.com. This is a one minute moment.
What do you do if you haven't filed taxes for a number of years? You don't have the papers because you've moved your divorce, you've had disasters or whatever. And you just don't have access to that information. Guess what? There is a place to start. We're able to pull transcripts, we're able to look at some of the information that we have, and then we can go back and recreate some of the expenses based on if nothing else, your type of industry, there is ways for us to justify and to do back taxes to a point where you can actually start settling your tax debt. Very important. Give me a call (615) 367-0819.
Announcer
You can catch the Doctor Friday Call-in Show live every Saturday afternoon from 2pm to 3pm right here on 99.7 WTN.