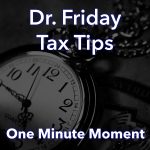 Dr. Friday
Good day. I'm Dr. Friday, president of Dr. Friday Tax and Financial Firm. To get more info go to www.drfriday.com. This is a one minute moment.
Are legal fees a tax deduction? Many times people come in and they're like, well, I've had to, you know, pay legal fees to get a will, a trust, maybe had to settle some sort of dispute. And the answer is no, the only time legal fees are a tax deduction, if you can tie it to a business. If for some reason you're having to defend your license or something that was wrong in your business, those legal fees would be a legitimate tax deduction. Otherwise, no, you cannot write off your divorce or any other legal things that's happened in your life.
If you've got questions, call me (615) 367-0819.
Announcer
You can catch the Doctor Friday Call-in Show live every Saturday afternoon from 2pm to 3pm right here on 99.7 WTN.