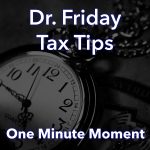 Dr. Friday
Good day. I'm Dr. Friday, president of Dr. Friday Tax and Financial Firm. To get more info go to www.drfriday.com. This is a one minute moment.
It's time to start preparing for 2019 taxes. We are going to give a busy year this year and one of the things you want to prepare for is do you have the right amount of withholdings coming out of your paycheck? They're telling us from the Internal Revenue Service. They're saying that people did not adjust their withholdings properly. They're finding quite a few people are having either too much or too little because they're playing with their dependents. It's very important to just get it done right. In that way then when tax time comes, you don't get huge refunds, but you don't have to pay a lot of money.
Call me, (615) 367-0819.
Announcer
You can catch the Doctor Friday Call-in Show live every Saturday afternoon from 2pm to 3pm right here on 99.7 WTN.