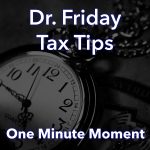 Dr. Friday 0:00
Good day. I'm Dr. Friday president of Dr. Friday's tax and financial firm. To get more info go to www.drfriday.com. This is a one-minute moment.
Dr. Friday 0:12
"I have a home office, but I'm an employee, can I deduct that from my tax return?" Now we've probably covered this in a couple of other moments but the answer would still be no. I know in 2020, many of you worked from March all the way up till today possibly in your home, not going into the office surprised so you had higher utilities you had to make better space, you may have even had to buy office equipment. I hate to tell you but at this point, the tax law has not changed for individuals that are on W 2's. Those will still not be deductible expenses. If you need help, you need to call us at 615-367-0819.
Announcer 0:52
You can catch the Dr. Friday call-in show live every Saturday afternoon from 2 pm to 3 pm right here on 99.7 WTN.