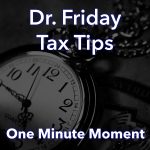 Dr. Friday 0:00
Good day. I'm Dr. Friday president of Dr. Friday's tax and financial firm. To get more info go to www.drfriday.com. This is a one-minute moment.
Dr. Friday 0:12
Standard mileage rates for your business travel, also need to figure depreciation on your vehicle, which is better? I mean, should we take actual? Should we take miles? When do we make this decision? Can we change that every year? Can we decide to go buy a new car and just because it's an SUV, we can take 100% of it? These are the kinds of things I hear every day and to be quite honest, most of the time people are a bit confused about what true auto expenses are, what you can take off your tax return legitimately and how to justify those expenses. If you're sitting there winging it and hoping that you don't get caught you need to call us at 615-367-0819.
Announcer 0:52
You can catch the Dr. Friday call-in show live every Saturday afternoon from 2 pm to 3 pm right here on 99.7 WTN.