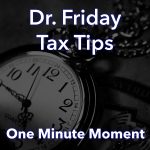 Dr. Friday 0:00
Good day. I'm Dr. Friday president of Dr. Friday's tax and financial firm. To get more info go to www.drfriday.com. This is a one-minute moment.
Dr. Friday 0:13
If you bought a new car in 2020, and let's say it's a beautiful SUV, around $60,000. And you know what? That would be an awesome tax deduction on your business return. Can you take it? Let's think about this. Is it your only vehicle? Does the company you're doing require you to have a vehicle? These are important questions because if the car isn't really being used to generate or produce income for you, you're not entitled to taking this deduction just because you've got a beautiful SUV. If you need help, you need to call me at 615-367-0819.
Announcer 0:52
You can catch the Dr. Friday call-in show live every Saturday afternoon from 2 pm to 3 pm right here on 99.7 WTN.