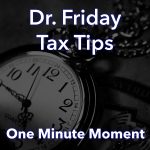 Dr. Friday 0:00
Good day. I'm Dr. Friday president of Dr. Friday's tax and financial firm. To get more info go to www.drfriday.com. This is a one-minute moment.
Dr. Friday 0:12
What happens if you're looking at your tax forms and you just found out that there's a mistake? Someone either 1099'd you for too much money, too little money. They have the wrong categories on your 1099 Rs. You did someone's W2 and the information, the address the name, the social security number are wrong. What should you be doing? If you're the employer, It's a pretty straight answer, you need to do an amended W2 or 1099. But what happens if you're the receiver? What if you can't get a hold of the employer? Well, guess what, there are forms that you can file that would correct that information. If you're unable to correct it through your employer. If you need help, go to Drfriday.com.
Announcer 0:52
You can catch the Dr. Friday call-in show live every Saturday afternoon from 2 pm to 3 pm right here on 99.7 WTN.