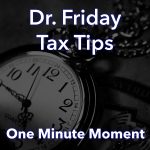 Dr. Friday 0:00
Good day. I'm Dr. Friday president of Dr. Friday's tax and financial firm. To get more info go to www.drfriday.com. This is a one-minute moment.
Dr. Friday 0:12
Tax time is almost done. If you haven't filed your taxes you're probably in the midst of them right now and you're trying to figure out if you should be doing this. If you need help, you need to go to drfriday.com and set up a tax appointment if there's any available. If you can't, call us at 615-367-0819. Don't forget, there are some changes this year. One of the big ones is a $300 charitable contribution deduction right off of 1040. Also, you need to report how much you received in stimulus money because if you didn't get it last year, you'll be getting it on your 2020 tax return. So if you need help again, go to drfriday.com.
Announcer 0:52
You can catch the Dr. Friday call-in show live every Saturday afternoon from 2 pm to 3 pm right here on 99.7 WTN.