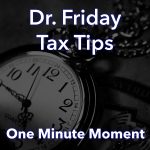 Dr. Friday 0:00
Good day. I'm Dr. Friday president of Dr. Friday's tax and financial firm. To get more info go to www.drfriday.com. This is a one-minute moment.
Dr. Friday 0:12
Maybe you filed your tax returns back in February and another form shows up. You didn't think you were gonna get it or maybe even it's a corrected form. Many times our brokerage statements will come early on, and then they made a correction. And that correction is enough where you need to file a 1040X. You need to be the one telling the government, "Hey, I just received this information and I am updating my taxes and paying my fees." So maybe that way they don't charge you or wait two years and penalties and interest is now doubled what you owed in the first place. If you need help correcting or filing taxes, call us at 615-367-0819.
Announcer 0:52
You can catch the Dr. Friday call-in show live every Saturday afternoon from 2 pm to 3 pm right here on 99.7 WTN.