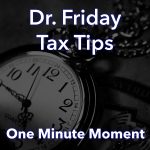 Dr. Friday 0:00
Good day. I'm Dr. Friday, president of Dr. Friday Tax and Financial Firm. To get more info go to www.drfriday.com. This is a one-minute moment.
Dr. Friday 0:10
Casualty and theft loss. Personal casualty and theft loss for individuals sustained in the tax year after 2017 are deductible only to the extent that the losses are attributed to the federal disaster. This is very difficult for people to understand because, for many, many years, we were able to take if you had a fire in your home, or if there was some sort of water damage, you could claim these losses. Now we only have it if the federal government clears that area as a disaster area. So if there was and we've had several in the last couple years right here in Tennessee, and you've had a home loss or home damage, and you haven't claimed those losses, maybe it's time for an expert to take a look at your taxes. Call me today.
Announcer 0:51
You can catch the Dr. Friday call-in show live every Saturday afternoon from 2 pm to 3 pm right here on 99.7 WTN.