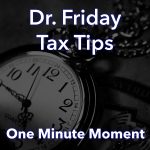 Dr. Friday 0:00
Good day. I'm Dr. Friday, president of Dr. Friday Tax and Financial Firm. To get more info go to www.drfriday.com. This is a one-minute moment.
Dr. Friday 0:12
Child Tax Credit. We all know there was an increase and there was an advance, but how much was that increase? So it comes down like this: If you have a child under the age of six in the tax year, so if the child was under the age of six in the year of 2021, meaning they don't turn six until 2022. They're going to re-qualify for $3,600. If you have a child that's between the ages of six and 17, again, not changing their age until the year of 18, you're going to get $3,000 This is really confusing for many people, because when they walk in, they're like, well, they were six for half the year so don't think you'd have the credit. The answer is no.
Announcer 0:51
You can catch the Dr. Friday call-in show live every Saturday afternoon from 2 pm to 3 pm right here on 99.7 WTN.