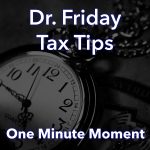 Dr. Friday 0:00
Good day. I'm Dr. Friday, president of Dr. Friday Tax and Financial Firm. To get more info go to www.drfriday.com. This is a one-minute moment.
Dr. Friday 0:12
We'd like to talk about capital gains, but there's also the extra tax on things like cryptocurrency. Is that really a collectible or antique? Is it more of a stock? What is it and how is it taxed? Great question. Well, the IRS has come down and said that they're going to treat it as capital gains. But you sitting out there listening to me as you're driving in your car, and you're saying, "Well, the IRS doesn't know if I own cryptocurrency." Guess what? The last two years they've asked that question right there on your tax return. And if you have said no, and then you find out that you've been buying and selling, they're gonna hit you with a 50% penalty for failure to report income. Make sure you do your taxes right.
Announcer 0:51
You can catch the Dr. Friday call-in show live every Saturday afternoon from 2 pm to 3 pm right here on 99.7 WTN.