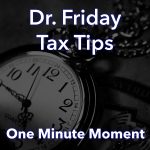 Dr. Friday 0:00
Good day. I'm Dr. Friday, president of Dr. Friday Tax and Financial Firm. To get more info go to DrFriday.com. This is a one-minute moment.
Dr. Friday 0:12
Federal Tax Code encourages charitable contributions after the age of 70 and a half. You may be able to make this directly from your RMD or required minimum distribution of your IRA up to $100,000 or 30% of your AGI. Come on, guys. If you're over 70 and a half and many of you, I know, I do a lot of your taxes actually are extremely giving individuals. It is so much better to be able to give pre-tax than after tax. If you don't know what I'm talking about, you need to be calling me at 615-367-0819.
Announcer 0:51
You can catch the Dr. Friday call-in show live every Saturday afternoon from 2 pm to 3 pm right here on 99.7 WTN.