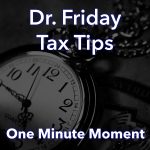 Dr. Friday 0:00
Good day. I'm Dr. Friday, president of Dr. Friday Tax and Financial Firm. To get more info go to www.drfriday.com. This is a one minute moment.
Dr. Friday 0:13
Charitable contributions. You know, there are more ways to give to charity than just cash. Many people will give clothing, household furniture, and cars. Cars are a bit tricky because it used to be whatever the blue book value of the car was, they got to deduct on their tax return. Not so much anymore. That law changed several years ago. Just so you know, when you deduct a car, you have to deduct the amount that the charity received for that car when they sell it. If they don't sell it, It is not something you're going to be able to do take off your taxes immediately. Call me 615-367-0819
Announcer 0:52
You can catch the Dr. Friday call-in show live every Saturday afternoon from 2 pm to 3 pm right here on 99.7 WTN.