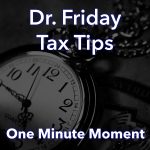 Dr. Friday 0:00
Good day. I'm Dr. Friday, president of Dr. Friday Tax and Financial Firm. To get more info go to www.drfriday.com. This is a one minute moment.
Dr. Friday 0:12
I'm Dr. Friday, an enrolled agent licensed with the Internal Revenue Service to do taxes and representation which basically means guys, I'm kind of like a shield between you and the IRS. We can work with them to help you resolve your tax issues. It may be as simple as an offer and compromise or as complicated as a payment plan, partial payment plan, or non-collectible. Any of those things could apply to you. Every individual is different. So don't just assume or call someone who will tell you to give them some money and that they'll take care of the IRS. It's never that easy. There are questions and answers we need. Call me at 615-367-0819.
Announcer 0:52
You can catch the Dr. Friday call-in show live every Saturday afternoon from 2 pm to 3 pm right here on 99.7 WTN.