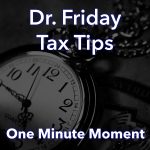 Dr. Friday 0:00
Good day. I'm Dr. Friday, president of Dr. Friday Tax and Financial Firm. To get more info go to www.drfriday.com. This is a one-minute moment.
Dr. Friday 0:12
Now's another time to be thinking. Right now we have a charitable deduction: Single person is 300 and married couples are 600 above the standard deduction if you give cash. So if you haven't done it or you don't have proof of receipts, but you always mean to or I mean Christmas time, a lot of us give money anyways. Make sure you save those receipts. In 2020 I had many cases where the person basically came out and said, I can't prove I did it. So make sure you have those documents so that we can make sure we can put more money in your pocket or if you're doing your own tax returns. This is new. Married couples get up to $600 and single people get up to $300 call us at 615-367-0819.
Announcer 0:51
You can catch the Dr. Friday call-in show live every Saturday afternoon from 2 pm to 3 pm right here on 99.7 WTN.