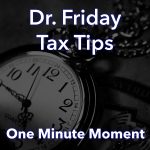 Dr. Friday 0:00
Good day. I'm Dr. Friday, president of Dr. Friday Tax and Financial Firm. To get more info go to www.drfriday.com. This is a one-minute moment.
Dr. Friday 0:12
Many of you may have filed for the Recovery Rebate Credit on your 2020 tax return. And then you got a chance on that because the IRS came back and said, "No, no, no, you received that money." If you don't know or if you could find that you ever received that money, there is now a place where you can say you do not agree and there's a phone number 1-800-829-0922 That's right. 1-800-829-0922. I know we had several cases where people swore they did not get the recovery rebate, read it, then we went back and actually went through and audit their bank statements found many of them. But if you haven't received it, you need to call them today.
Announcer 0:51
You can catch the Dr. Friday call-in show live every Saturday afternoon from 2 pm to 3 pm right here on 99.7 WTN.