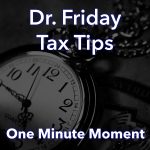 Dr. Friday 0:00
Good day. I'm Dr. Friday, president of Dr. Friday Tax and Financial Firm. To get more info go to www.drfriday.com. This is a one-minute moment.
Dr. Friday 0:12
Child Tax Credit and Advanced Child Tax Credit. We are wondering at this moment, will you be getting a payment come the 15th of this month since the Build Back Better plan had not passed by the end of 2021? We are still waiting to see if that information. If you want to know more about that. Listen to my radio show every Saturday at 2 pm right here on this station. And I will help and keep you updated on all the new tax changes in the laws that may affect your everyday life. And especially when they're giving you money then they're not giving you money. What do you do next? Again, this Saturday at 2 pm, I'm live to help you.
Announcer 0:51
You can catch the Dr. Friday call-in show live every Saturday afternoon from 2 pm to 3 pm right here on 99.7 WTN.