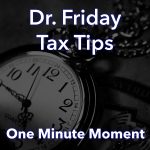 Dr. Friday 0:00
Good day. I'm Dr. Friday, president of Dr. Friday Tax and Financial Firm. To get more info go to www.drfriday.com. This is a one-minute moment.
Dr. Friday 0:12
Limited partnership income may be subjected to self-employment tax. Listen up. I know a lot of you guys get talked into doing special types of entities LLCs, Sub S corporations, limited partnerships, and you're being told that you can take some of that money as dividends, which is no longer tax at self-employment and the rest of it if you take it as a draw maybe and so you try to keep it really small like I take 20,000, but I actually took 100,000 the company to live guess what the IRS is getting smart and they're gonna be changing the tax laws and this is one of the areas they are auditing, make sure when you do your taxes, you know the tax laws so you're not caught by the IRS.
Announcer 0:51
You can catch the Dr. Friday call-in show live every Saturday afternoon from 2 pm to 3 pm right here on 99.7 WTN.