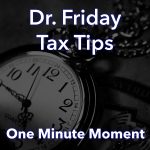 Dr. Friday 0:00
Good day. I'm Dr. Friday, president of Dr. Friday Tax and Financial Firm. To get more info go to www.drfriday.com. This is a one-minute moment.
Dr. Friday 0:12
The IRS has stated that the 2022 tax starting date will be between January 15 And February 15. We don't have an exact date, but that doesn't mean you can't start preparing your taxes. If you haven't already made an appointment with my office or if you still need help, all you have to do to go to drfriday.com and click on the calendar. Remember taxes can be fairly straightforward. But if you're not sure what you've done, maybe you've sold some real estate maybe you've had some stock sales or you've changed jobs and you're not sure exactly how to proceed. Make sure you get an expert that's going to help you again, we won't be able to file your taxes until after January 15.
Announcer 0:51
You can catch the Dr. Friday call-in show live every Saturday afternoon from 2 pm to 3 pm right here on 99.7 WTN.