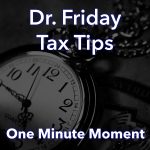 Dr. Friday 0:00
Good day. I'm Dr. Friday, president of Dr. Friday Tax and Financial Firm. To get more info go to www.drfriday.com. This is a one-minute moment.
Dr. Friday 0:13
Make sure that your W2 is correct. We're receiving quite a few emails this year. They're telling us that the information on the W2 isn't matching the final paycheck stubs. This is very important because what's on that W2 is what the IRS is going to be looking at and they do match tax returns and W2. It's the same thing with 1099 Ks. If you're doing something on the internet or you have a merchant account, remember the IRS gets a copy of that form. So if you're not sure again, if you need help, just give me a call. It's really really easy. Pick up the phone 615-367-0819.
Announcer 0:52
You can catch the Dr. Friday call-in show live every Saturday afternoon from 2 pm to 3 pm right here on 99.7 WTN.