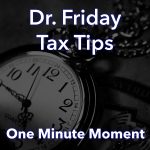 Dr. Friday 0:00
Good day. I'm Dr. Friday, president of Dr. Friday Tax and Financial Firm. To get more info go to www.drfriday.com. This is a one-minute moment.
Dr. Friday 0:12
One of the changes that will probably help just about everybody out there is the Charitable Deduction. Nowadays I know we have the standard deduction, but remember above the line we had last year in 2020, a $300 deduction for pretty much everybody. Now it's 300 for single 600 for married couples, and it has to be a cash contribution. But if you gave the money to your church or you gave cash to some organization that is a 501 C3. Remember above the itemizing you'll be able to deduct up to 600 if you're married and 300 If you are single.
Announcer 0:51
You can catch the Dr. Friday call-in show live every Saturday afternoon from 2 pm to 3 pm right here on 99.7 WTN.