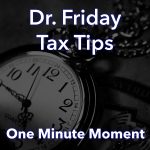 Dr. Friday 0:00
Good day. I'm Dr. Friday, president of Dr. Friday Tax and Financial Firm. To get more info go to DrFriday.com. This is a one-minute moment.
Dr. Friday 0:12
Medical expenses. In 2021, all individuals may deduct a qualified medical expense that exceeds 10% of your adjusted gross income. Guys, this is the hardest part, because first to itemize medical you first have to meet the 10%. So if you make $100,000 a year, the first $10,000 of medical will not kick in. Then, whatever you have above that will start leading to the standard deductions. But as we know, the standard deductions have all went up in the last year. So it's going to be harder and harder for you to be able to truly itemize your medical. But if you can, it's a great deduction.
Announcer 0:51
You can catch the Dr. Friday call-in show live every Saturday afternoon from 2 pm to 3 pm right here on 99.7 WTN.