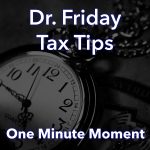 In this one-minute moment, Dr. Friday, an enrolled agent licensed with the IRS, delves into the challenges many face when dealing with taxes. From the fear of the IRS to the impact on major life decisions like buying a home or funding education, Dr. Friday emphasizes the importance of seeking help when overwhelmed. Tune in to her weekly radio show for more insights or reach out directly for personalized assistance.
Transcript
G'day, I'm Dr. Friday, president of Dr. Friday's tax and financial firm. To get more info go to www.drfriday.com. This is a one-minute moment.
I'm an enrolled agent licensed with the Internal Revenue Service to do taxes and representation. I do a radio show every Saturday at 2 p.m. right here on this station and I talk about taxes 365 days a year, sometimes 366 depending on the year, and it's awesome. But if you need help, I understand taxes can be overwhelming. It can be a time when you basically just want to put your head in the sand and say no, if I don't say anything the IRS won't catch me. It makes it a little difficult to buy a home, put your kids through college, or even just get back on your feet. If you need help doing this you need to start by calling us at 615-367-0819. We can help you with the IRS.
You can catch the Dr. Friday call-in show live every Saturday afternoon from 2 to 3 p.m. right here on 99.7 WTN.