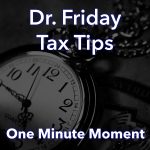 Dr. Friday 0:00
Good day. I'm Dr. Friday, president of Dr. Friday Tax and Financial firm. To get more info go to www.drfriday.com. This is a one minute moment.
I am Dr. Friday, an enrolled agent licensed with the Internal Revenue Service to do Taxes and representation. And that's what I'm really good at. So if you need help preparing your taxes for the 2019 tax year or maybe you need help for preparing for many different years, or maybe you owe the IRS. Not so much that you need tax preparation but you need help with dealing with the IRS. That is what I am licensed to do.
So what you need to do first and foremost, give me a call 615-367-0819 or go to drfriday.com and click on the calendar and set up an appointment. The only way you're ever going to get out of the IRS is to start talking with me and let me help you get organized.
Announcer 0:52
You can catch the Dr. Friday Call-In Show live every Saturday afternoon from 2 pm to 3 pm right here on 99.7 WTN.