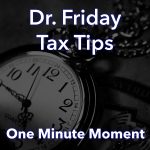 Dr. Friday 0:00
Good day. I'm Dr. Friday, president of Dr. Friday Tax and Financial Firm. To get more info go to www.drfriday.com. This is a one minute moment.
Make sure you understand that when your tax person prepares their taxes sometimes, not many nowadays, but apparently 70% of paper file tax returns have been done with errors. Only 1% of E file tax returns had been filed with errors. So mathematically, it just makes sense. Don't be sending in paper copies, make sure that you're sending in your tax returns electronically. You can track it that way. You can find out where your refund is you can make sure the IRS has received your taxes because if they don't, there are serious penalties for failure to file.
So what you need to do is go to the website drfriday.com and make an appointment today.
Announcer 0:52
You can catch the Dr. Friday Call-In Show live every Saturday afternoon from 2 pm to 3 pm right here on 99.7 WTN.