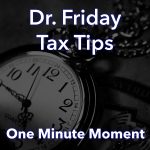 Dr. Friday 0:00
Good day. I'm Dr. Friday, president of Dr. Friday Tax and Financial Firm. To get more info go to www.drfriday.com. This is a one minute moment.
Virtual currency. A lot of talk and a lot of tax issues. Did you know if you bought one bitcoin a 10 years ago today that Bitcoin can be worth $90,000? It's considered one of the fastest and most increasing stocks, I guess you could say that someone purchased. And so when it comes to virtual currency, the IRS is sitting there going, wait a second, there's a lot of money we don't know about. So starting last year, they started sending out love letters to people that they know have invested in virtual currencies.
If you have a question about how you should be reporting this, and you should be, call me 615-367-0819.
Announcer 0:52
You can catch the Dr. Friday Call-In Show live every Saturday afternoon from 2 pm to 3 pm right here on 99.7 WTN.