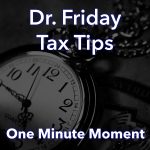 Dr. Friday 0:00
Good day. I'm Dr. Friday, president of Dr. Friday Tax and Financial firm. To get more info go to www.drfriday.com. This is a one minute moment.
If you're the sole heir, you have an IRA and inherited it, you need to take the requirement of distributions. For anyone that inherits an IRA requirement on distributions start the year after the passing of the individual that you inherited it from. So just keep in mind, you don't have to be 70 and a half to take requirement on distributions. This is very important because if you don't, there are serious penalties. And that's 50% of what you took out. So if you hit $10,000, you get a penalty of $5,000. Very important to make sure Uncle Sam is getting his share.
Otherwise, he's gonna take more than his share. Call me 615-367-0819.
Announcer 0:53
You can catch the Dr. Friday Call-In Show live every Saturday afternoon from 2 pm to 3 pm right here on 99.7 WTN.