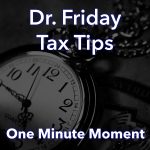 Dr. Friday 0:00
Good day. I'm Dr. Friday, president of Dr. Friday Tax and Financial firm. To get more info go to www.drfriday.com. This is a one minute moment.
Watch out if you plan to borrow from your IRA for short term cash need. The money must be returned within 60 days. And if it's not, if it's one single day late, guess what, that all becomes income to you. So you gotta be very, very cautious. Had a case in the courts that basically said that she had sent it back on the 59th day but it took him three days to post it, therefore it was a few days late. The IRS said that she owed it as income. She did win this case in court. But when it comes down to it, do you want to go into Tax Court to defend your taxes? I hope you don't because that can get very expensive.
Announcer 0:47
You can catch the Dr. Friday Call-In Show live every Saturday afternoon from 2 pm to 3 pm right here on 99.7 WTN.