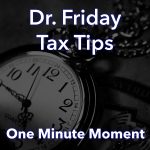 Dr. Friday 0:00
Good day. I'm Dr. Friday, president of Dr. Friday Tax and Financial firm. To get more info go to www.drfriday.com. This is a one minute moment.
Keep in mind if you're in a partnership that owns a single member, LLC, that you must pay self-employment tax. Remember single-member LLC or basically sole proprietorship, this means one person falls on your individual tax return and you have to pay self-employment tax on all earnings. Many times in partnerships or limited liability companies, there are ways of deferring that self-employment tax. But if you are the owner of a partnership and then you own a single-member LLC within it, you just put yourself back on the block for self-employment tax.
Understand the tax laws by calling me 615-367-0819.
Announcer 0:52
You can catch the Dr. Friday Call-In Show live every Saturday afternoon from 2 pm to 3 pm right here on 99.7 WTN.