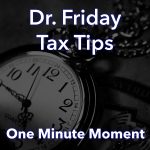 Dr. Friday 0:00
Good day. I'm Dr. Friday, president of Dr. Friday Tax and Financial Firm. To get more info go to www.drfriday.com. This is a one minute moment.
Spending time gambling doesn't always make it a trade or business. Remember the word hobby. IRS loves to use that on anyone that basically has some sort of business that usually loses money. And in gambling, unless you are a professional and you're very good at it, you probably are trying to claim it as a business loss against ordinary income. The IRS basically said, nope, that's not going to happen and you can only itemize up to your losses on the Schedule A which means you have to first itemize. So, gambling has become a little bit more expensive for those who have lost money.
615-367-0819.
Announcer 0:53
You can catch the Dr. Friday Call-In Show live every Saturday afternoon from 2 pm to 3 pm right here on 99.7 WTN.