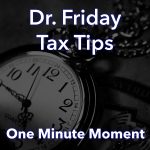 Dr. Friday 0:00
Good day. I'm Dr. Friday, President of Dr. Friday's Tax and Financial firm. To get more info go to www.drfriday.com. This is a one-minute moment.
Dr. Friday 0:13
If you miss the deadline of March 15 for your business tax return, today's the day you really want to send it. It's that simple. You're going to get hit with some severe penalties if you haven't filed your corporate or partnership tax returns. If you need help making sure that this information is done correctly. It's not a hard thing. You could check me on the web at drfriday.com. You can pick up the phone at 615-367-0819 or maybe it's easier to explain your situation by just emailing me and it's an easy email Friday, which is my first name, friday@drfriday.com.
Announcer 0:51
You can catch the Dr. Friday call-in show live every Saturday afternoon from 2 pm to 3 pm right here on 99.7 WTN.