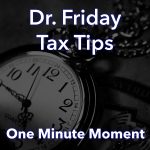 Dr. Friday 0:00
Good day. I'm Dr. Friday, President of Dr. Friday's Tax and Financial firm. To get more info go to www.drfriday.com. This is a one-minute moment.
Dr. Friday 0:13
As an entrepreneur I think one of the hardest things that most of us think about is retirement, putting money aside for that day that we might not be able to do which I hope is never do what I do. But if you are a self-employed person there is a thing called a SEP, right? And you can maximize that SEP at $58,000. You can also have a SIMPLE which would max out for my age 165 if you're under the age of 50, 135, and a 401k. Most employers they're expensive for small businesses but bigger employers are $19,500 or $26,000 if you're over the age of 50.
Announcer 0:51
You can catch the Dr. Friday call-in show live every Saturday afternoon from 2 pm to 3 pm right here on 99.7 WTN.