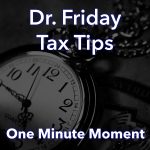 Dr. Friday 0:00
Good day. I'm Dr. Friday, President of Dr. Friday's Tax and Financial firm. To get more info go to www.drfriday.com. This is a one-minute moment.
Dr. Friday 0:12
And we are working hard trying to get through the 2021 tax season. And we're all finding out tax forms aren't perfectly correct. We can't find a basis on capital gains, you've sold something and we can't find the cost basis for a home that you inherited three years ago. Take a breath. There are ways to find this information out. We can help you find the best ways to accomplish getting that information. But the first thing you have to do is give us a call. And then once you've got us on the phone, explain your situation or just email us at friday@drfriday.com. We're here to help you.
Announcer 0:51
You can catch the Dr. Friday call-in show live every Saturday afternoon from 2 pm to 3 pm right here on 99.7 WTN.