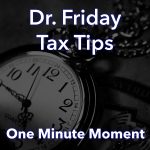 Dr. Friday 0:00
Good day. I'm Dr. Friday, President of Dr. Friday's Tax and Financial firm. To get more info go to www.drfriday.com. This is a one-minute moment.
Dr. Friday 0:12
We've talked in the past and where I'll keep talking about hobbies versus businesses. Many people will come in and they'll tell me, "Well, I have this business, but I never really got it started. But I put $20,000 into it. And I just, I can't do it. My job got busier." And guess what? The IRS is gonna say, "If you started a business while you were still employed somewhere else, and you didn't have the time to start it, guess what? It was never a business." You may have gone and taken a trip and you might have brought a bunch of inventory. You might have even started a website. But if you did not actually start building the intent to actually succeed. The IRS very likely can disallow those expenses.
Announcer 0:52
You can catch the Dr. Friday call-in show live every Saturday afternoon from 2 pm to 3 pm right here on 99.7 WTN.