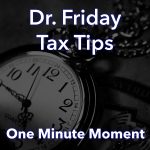 Dr. Friday 0:00
Good day. I'm Dr. Friday, President of Dr. Friday's Tax and Financial firm. To get more info go to www.drfriday.com. This is a one-minute moment.
Dr. Friday 0:12
Record keeping as an entrepreneur. We are responsible for tracking the income coming in and the expenses going out. Was responsible for making sure 1099 are issued to people that we pay more than $600 for a service. So if you have a rental property, you are in business, and guess what? That lawn person most likely earned more than $600 If you had someone come over and do some handyman repairs, or if you had a painter come in and they are not a corporation. That means it ends with SEO or INC most businesses in Tennessee are LLC. We should be issuing those individuals 1099s or we could be fined.
Announcer 0:51
You can catch the Dr. Friday call-in show live every Saturday afternoon from 2 pm to 3 pm right here on 99.7 WTN.