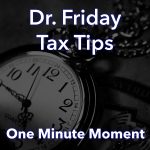 Dr. Friday 0:00
Good day. I'm Dr. Friday, President of Dr. Friday's Tax and Financial firm. To get more info go to www.drfriday.com. This is a one-minute moment.
Dr. Friday 0:12
And here's the scenario. You're divorced. Your wife has custody of the children most of the time. Maybe it's even a 50/50 split. But on the divorce papers, it says that she is custodial, and you can only claim the children when she basically every other year it's supposed to be, but if you haven't paid child support or if you're behind, they're able to claim these children. Keep in mind the IRS doesn't care what a divorce decree says. It is basically very black and white. If the child has lived with you six months and one day you provide more than 50% of their care, you are going to be able to claim that child depending on their age. If you need help, you can check out drfriday.com.
Announcer 0:52
You can catch the Dr. Friday call-in show live every Saturday afternoon from 2 pm to 3 pm on 99.7 WTN.