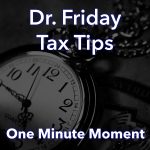 Dr. Friday 0:00
Good day. I'm Dr. Friday, president of Dr. Friday Tax and Financial Firm. To get more info go to www.drfriday.com. This is a one minute moment.
Dr. Friday 0:12
I had an email come in this week and the gentleman was buying some tools and wanted to know if he could deduct them from his tax return. In his situation, he was an employee of an auto store, and therefore, he was not going to be able to deduct those from his tax return. Keep in mind employees that are spending their own money for tools, equipment, education, anything like that now on the tax code does not have any place for us to deduct it. So just keep in mind that if you are not self-employed, those monies that you're spending are really just helping your career if you've got questions call 615-367-0819.
Announcer 0:52
You can catch the Dr. Friday call-in show live every Saturday afternoon from 2 pm to 3 pm right here on 99.7 WTN.