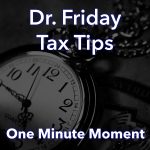 Dr. Friday 0:00
Good day. I'm Dr. Friday, president of Dr. Friday Tax and Financial Firm. To get more info go to www.drfriday.com. This is a one minute moment.
Dr. Friday 0:12
I'm Dr. Friday an enrolled agent licensed with the Internal Revenue Service to do taxes and representation. This basically says that I know one thing really well, taxes. So if you're having tax issues, maybe you need a new person to help you prepare or plan for your taxes, I'm the person you want to give a call. All you have to do is pick up the phone at 615-367-0819. That's right. You can also check me around the web. drfriday.com, we've got a brand new website, it's a way for you to find out more about who I am and what I can do for you. So again, if you want to reach me pick up the phone, call me at 615-367-0819.
Announcer 0:52
You can catch the Dr. Friday call-in show live every Saturday afternoon from 2 pm to 3 pm right here on 99.7 WTN.