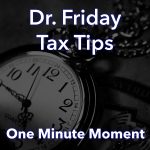 Dr. Friday 0:00
Good day. I'm Dr. Friday, president of Dr. Friday Tax and Financial Firm. To get more info go to www.drfriday.com. This is a one minute moment.
Dr. Friday 0:13
People often ask, "Can I still deduct my tax preparation fees?" And the answer is no, not for a few more years. From 2018 to 2025, that is no longer on the tax code because it was part of 2106. So you will not be deducted. Unless you are a sole proprietor or a business then, of course, part of your tax preparation or all of your tax preparation for those businesses would be a complete tax deduction. Make sure you're not leaving money on the table, but also make sure you understand these new tax laws. They have changed people and it is exciting and new. But, you need to make sure you're not leaving money on the table. Call me at 615-367-0819.
Announcer 0:52
You can catch the Dr. Friday call-in show live every Saturday afternoon from 2 pm to 3 pm right here on 99.7 WTN.