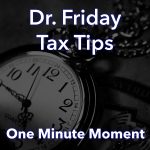 Dr. Friday 0:00
Good day. I'm Dr. Friday, president of Dr. Friday Tax and Financial Firm. To get more info go to www.drfriday.com. This is a one minute moment.
Dr. Friday 0:12
There are quite a few people out there doing the flipping. They buy a house, they flip it and then they turn around and sell it. There are some advantages and disadvantages. Remember, short-term Capital Gains, for example, is taxed at ordinary income rates. It is not really Capital Gains. So if you're flipping a house, be prepared to pay taxes if you're making money. Tracking those expenses is very, very important to make sure you have good record keeping. Because at this point, no one knows if you go to Home Depot to fix your house or to fix a flipper. How are they going to know unless you've got good records? If you need help with record keeping you need to call me at 615-367-0819.
Announcer 0:52
You can catch the Dr. Friday call-in show live every Saturday afternoon from 2 pm to 3 pm right here on 99.7 WTN.