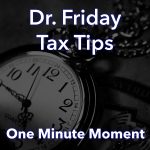 Dr. Friday 0:00
Good day. I'm Dr. Friday, president of Dr. Friday Tax and Financial Firm. To get more info go to www.drfriday.com. This is a one minute moment.
Dr. Friday 0:12
Haven't filed taxes for a while? Not sure where to get started? I'm your girl. That's right. I can help you get back in shape when it comes to your taxes. We can help you work it out, and that way, you can basically get back on doing what you want to do. It's not impossible. But first things first, you've got to get in compliance with the Internal Revenue Service. It's not going to be simple, but it is doable and I can help you do it. All you have to do is go to my website, Drfriday.com, click on the calendar, and then you can actually set up an appointment. If you've got questions, you can email me friday@drfriday.com or call me at 615-367-0819.
Announcer 0:52
You can catch the Dr. Friday call-in show live every Saturday afternoon from 2 pm to 3 pm right here on 99.7 WTN.