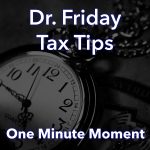 Dr. Friday 0:00
Good day. I'm Dr. Friday, president of Dr. Friday Tax and Financial Firm. To get more info go to www.drfriday.com. This is a one minute moment.
Dr. Friday 0:12
Are you receiving love letters from the Internal Revenue Service? Are they basically telling you that they're going to lien, levy, or seize your property and you don't really know what to do? Maybe you've even called some of those popular numbers on the radio station? Well give me a call, I can help you or at least give you the advice you need to know what's going to take to move forward. Sometimes it takes change. It's not just as simple as the IRS is going to leave you alone. Let's get this resolved and move forward. If you need help dealing with the IRS on the person you want to call 615-367-0819. I'm an enrolled agent licensed with the Internal Revenue Service and I can help you.
Announcer 0:52
You can catch the Dr. Friday call-in show live every Saturday afternoon from 2 pm to 3 pm right here on 99.7 WTN.